If you are a knife enthusiast and know a bunch of quality knife brands, then Dalstrong would be on your list for sure. There are, however, alternative brands on the market that have the best-performing knives. So, as there are many rivals in the current market, it might be hard to distinguish between good and average knife brands.
Talking about Dalstrong knives, you may find some positive feedback from online review forums. But let's get to the facts and clear up any doubt by answering the question, "Are Dalstrong Knives Really Good?"
Is Dalstrong a Good Knife Brand? The Company Background
Dalstrong is a relative newcomer in a market dominated by well-known knife manufacturers like Wusthof, Zwilling, Global, and Shun. The company is founded in 2014 in Canada by CEO David Dallaire. 
No other modern knife-making firm has caused as much attention as Dalstrong. Since it entered the market, they've devoted themselves to producing knives in both conventional and modern forms, utilizing the same high-quality materials as rivals.
The brand's creative approach to knife production has piqued the interest of many customers with satisfaction. 
Dalstrong's mission is to create eye-catching, dependable knives at reasonable costs. The designs are daring, incorporating cues from other cultures, art, nature, and even infrastructure.
Dalstrong is a forward-thinking corporation that is continually producing new items. Currently, they offer 11 kitchen knife collections, but more are on the way.
Moreover, the brand not only produces fine kitchen knives but also offers knife accessories, kitchenware, and stainless-clad cookware. 
Furthermore, their marketing is out of this world, with elevated videos and high-resolution photographs of their knives in action.
Also, they offer excellent customer service and will go to any length to ensure client pleasure, including satisfaction and guarantees. 
Many home cooks and others who have tried Dalstrong knives are pleased with the quality knife they can acquire for a fraction of the price of top market brands.
Where Are Dalstrong Knives Made?
Dalstrong knives are all handcrafted in Yanjiang, China. . This city has a rich legacy of manufacturing traditional knives dating back over 1400 years. 
Yangjiang presently has over 1500 cutlery enterprises, roughly half of them being privately held. Yangjiang produces the bulk of knives for the Chinese domestic market, the worldwide export market, and the knife counterfeiting sector.
Although Dalstrong knives are produced in China, steels from all around the world are used to make them. High-quality knife steels from Japan, Germany, and even the United States are included.
What Steel Does Dalstrong Use?
Depending on the collection, Dalstrong knives are fashioned from a range of steels.   Like –
The ThyssenKrupp German steel

American steel

Japanese steel 
ThyssenKrupp steel from Germany is high-performance steel utilized in Dalstrong's Gladiator series. The majority of the Dalstrong knife series is manufactured with high-quality Japanese steel. Japanese steel outperforms the other blade materials in terms of durability and hardness.
Dalstrong's Shogun line features high-quality Japanese steel, AUS-10V. This steel is strong, keeps an edge well, and is comparable to the materials used by high-end Japanese knife producers.
THE KNIFE ARCHITECTURE
Let us now have a look at the materials and construction for an average Dalstrong knife.
1. Blade
As mentioned above, Dalstrong uses high-quality Japanese and German steel to manufacture their super sharp blades. 
However, the exact steel use varies in every Dalstrong collection. Though, most employ mid to high-tier steel that is far superior to ordinary inexpensive made-in-China knife blades. 
Every Dalstrong blade is mercilessly sharp. For example, Dalstrong's Phantom series provides painstakingly honed edges by expert craftsmen with an edge angle of 13-15°.  
Moreover, the Gladiator series from Dalstrong uses imported high-carbon German steel that features a hand-polished edge and 16-18 degrees edge angle. So, you are getting high-performance steel with razor-sharp performance. 
Just like the Gladiator series, Dalstrong also employs high-carbon stainless steel, premium Japanese AUS-10V steel, AUS-8 steel, American hyper steel, and other high-end materials for their knife blades. 
Furthermore, all Dalstrong knives are forged. It's an advantage since forged knives are more robust and perform better than typical non-forged knives.
Read this article How to Care for a Carbon Steel Knife? it's very helpful for you.
2. Handle
Just like the blades, Dalstrong handles also feature different materials for their various knife series. Materials like G10 Garolite, ABS polymer, PakkaWood, Stainless Steel, RoseWood, Raisin Wood, and Aluminum all are in use on Dalstrong knife handles.
All these materials are high quality and comfortable to use. For example, PakkaWood handles are popular because of their quality performance in the comfortable section. It's a hardwood laminate material best known for durability and washability. 
ABS polymer is another well-known handle material from Dalstrong. It's a slick-looking, super-durable food-grade material that is hygienic and can tolerate high heat, cold, or moisture without any deterioration issues.
Dalstrong also features stainless steel handles for clean performance. Its high chromium content inhibits corrosion. Moreover, stainless steel handles leave no places for debris to settle. 
3. Design
Dalstrong produces a wide range of knives in several series. Each set has its own distinct flair, and you're sure to discover something you prefer.
Overall, Dalstrong's designs are daring, while some are cheesy.
Take the Shadow Black series, for example. It's designed to seem like a stealth fighter, with a sleek yet musclebound appearance.
However, if you like traditional design knives, then Dalstrong is not the place you want to look. 
Though, Dalstrong pushes the boundaries and does not limit itself to developing classic blades.
Dalstrong also provides a variety of designs throughout their collections. So, if you're searching for blades that aren't as showy as the Shadow Black series, you may get them here.
DALSTRONG KNIFE PERFORMANCE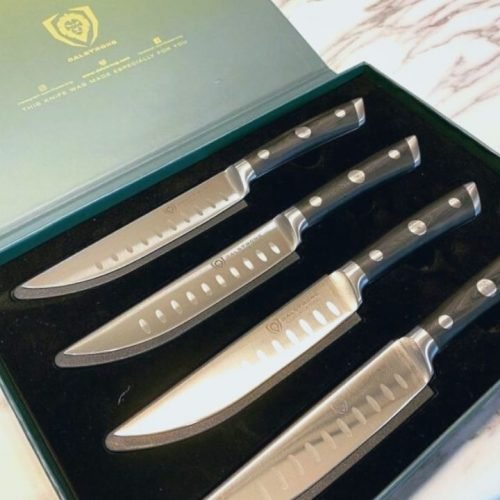 Though they are new in the business, Dalstrong knives are making a name for themselves in terms of performance. However, they aren't at the level to compete with well-known brands such as Wusthof or Gourmet.
The fact that Dalstrong knives are quite sharp and provide decent performance within a reasonable price range is impressive.  They easily cut through ingredients, and the hammered blade shape generates pockets of air to keep things from sticking.
However, when pitted against some of the industry's incumbent winners, they fall short.
Dalstrong blades don't provide the perfect balance like the Yoshihiro and Shun brands. Also, the handles, while visually appealing, are far too light and sometimes feel cheap. Though, they are comfortable.
Now the build quality that maneuvers the performance of Dalstrong knives differs from one collection to another. As previously said, the sharpness ranges from 8-12 degrees of edge angle to 16-18 degrees between different models. So, you can see the blade sharpness varies rather than being a fixed norm for all Dalstrong knives.
In addition, the hardness of the blades is measured using the Rockwell scale, which ranges from 55 to 63 in different Dalstrong knife models. However, it's crucial to know that the greater the Rockwell value, the stronger the steel.
Also, all of their knife collections are full tang. It has a performance advantage since the blade of a full tang knife extends entirely through the handle in both length and width. As a result, the knife is more balanced, making it simpler to chop food materials for extended periods of time.
So, the performance factor of Dalstrong knives generates mixed experiences while working with them. However, the best and most popular knife collections from Dalstrong will obviously provide you with the desired performance. 
Which brand is better – Dalstrong or Wusthof !!
DALSTRONG KNIVES | THE PROS AND CONS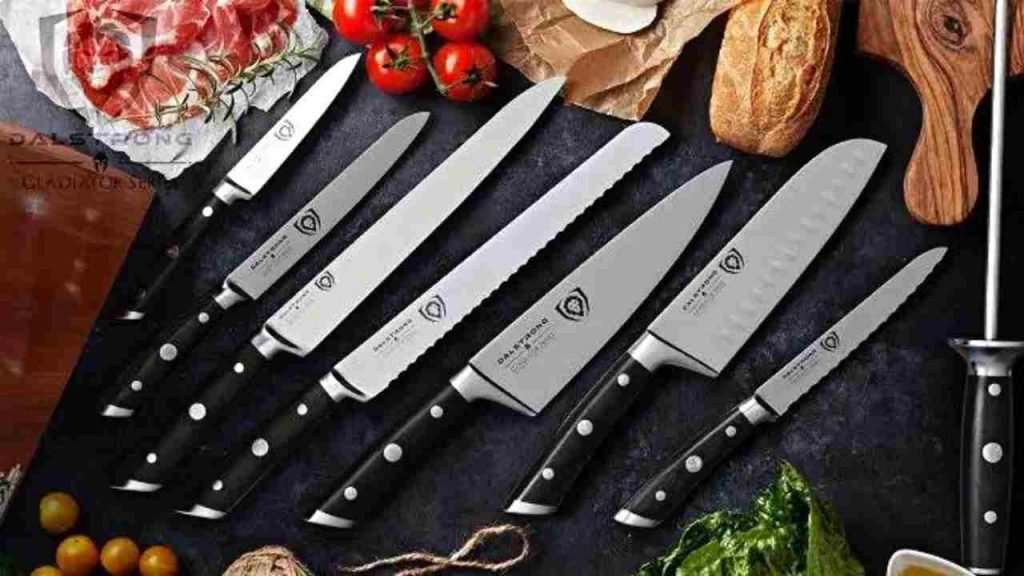 We most likely discovered several pros and cons of Dalstrong knives from the preceding discussion. However, to make it more precise, let's discuss the pros and cons of Dalstrong knives point by point.  
The Pros
Dalstrong offers you several unique knife collections with plenty of options.

The blades and handles of Dalstrong knives are crafted with premium and high-quality materials. Like – PakkaWood, Japanese steel, German steel, etc.

Dalstrong produces modern design knives

Dalstrong knives are forged and full tang.

You can get Dalstrong knives in an affordable price range.
The Cons
As a young brand, they have yet to show the long-term endurance of their knives.

Dalstrong blades are light and a bit unbalanced compared to other

popular forged knives

.

Dalstrong knives are manufactured in China, despite their German and Japanese-inspired designs and materials.

Some Dalstrong knives are cheap and showy
Top Dalstrong Knife Collections
Though Dalstrong is new to the knife industry, they produced some of the best quality knife series with perfection. Example like –
The Shogun Series 

Phantom Series

Gladiator Series 

Shadow Black, and 

The Omega Series
All these knife collections are Dalstrongs best creations over the years. These knives are well built, feature quality materials, and provide high performance while you work with these blades.   
Final Thoughts – Are Dalstrong Knives Worth The Price?
After all these analogies, we can finally answer questions like "are Dalstrong knives good?" or "are they worth the price?" 
However, the answer remains elusive because Dalstrong offers a wide range of knife models with varying degrees of quality and functionality. So, whether they are excellent or terrible depends on what you want to do with them or what specific task you want to complete.
So, you don't have any straight answer. Talking about statistics Dalstrong knives have thousands of favorable Amazon ratings. However, there are also issues concerning durability, staining, and poor edge retention. 
Furthermore, with Dalstrong knives, there is considerable risk involved because the durability concerns may not manifest immediately.
In the end, if you are really into Dalstrong knives, then start with a chef's knife. The Shogun and Gladiator series would be a great choice in this case. 
So, no matter whether you go for a Dalstrong knife or not, always try to investigate the particular product before buying.  
Check out Dalstrong's website for more details on their products.