Pakkawood also goes by Dymondwood, Colorwood, or Staminawood is an alternative material to natural woods. Because of the elegant look and durability, the material has gained quite some popularity. Renowned knifemaker Jay Fisher suggests that Rutland Plywood Corp. is producing this material and selling it under the name "Dymondwood." So, is Pakkawood worth the attention? Should you give it a go? Let's find out.
What is Pakkawood?
Pakkawood is an intricate wooden laminate that is an engineered alternative to natural woods. This wood composite is often described as wood/resin or wood/plastic composite material. However, It is composed uniquely to secure the lifetime usage for roughly handled products.
Composition
For most of the quality material, there is always a hefty recipe behind it. Same here as well. After removing moisture in a vacuum process, Wood veneers are impregnated with Phenol-formaldehyde resin. Then the impregnated surfaces are stacked together and form into a rigid sheet. This sheet is plywood. Twenty-nine or more veneers make these wood veneers layer.
Appearance
Now you know what is Pakkawood. And knowing how they look is equally important.
Pakkawood usually shows the resemblance of natural wood. But you can see it in various colors because its color depends on the color of the resin dye.
Pakkawood resembles the look of oak, walnut trees, and sometimes zebra wood color and texture than most other natural woods. The place of usage determines what color of dye the Pakkawood will wear. As the color depends on dyeing, you can give it any color & design you may think of.
Regardless of the color, a glossy look appears on it because of the presence of resin. So, the surface looks & feels like a plank of polished natural wood.
Common usage of Pakkawood
Pakkawood has so many uses. For being so durable, heat, and water-resistant, people are very much fond of this wood alternative. It is most commonly makes for making knife handles, cooking spoons, pool cues, and utensil handles. Though there are some other uses as well, we better discuss the common uses.
The most common and popular use of pakkawood is to make knife handles and tactical knives. The reason is quite simple. As you already know that Pakkawood has a very effective water-resisting ability, it is more durable, safe from bacteria, and long-lasting. This is why most Japanese and steak knives come with have handled. If you are a knife enthusiast, you may know how popular Japanese knives.
Some specific knife brands like Dalstrong knives, Cangshan Knife, etc use it in most of their knives. An interesting fact is you can easily purchase raw and make a custom-shaped handle for your knife if you love woodworking.
For military and tactical knives, which should be strong and durable, the material is used for the handle because of its great durability. So, if you love both the woody look and durability, you will definitely love to have these handles at the back of your knife.
This is another common example of "what is pakkawood" being used for. This material is making cooking spoons, spatulas, and other utensils. Sometimes steel spoons and spatula handles also come from it. This wood composite offers you water and heat resistance attributes, and that is surely worth of your attraction. These attributes make it all the more suitable & sustainable to use in the kitchen.
You can find handsome varieties of these utensils with unique looks as well. Pakkawood cooking spoons do not leave marks in the cooking pan. Also, they are usable on non-stick cookware, which makes a very good reason to produce spoons made from it.
Along with the design, you can get various shades of color in these spoons and spatulas that will help you to add some vibrancy to the kitchen. The guests should be fascinated to ask you where you got them from.
For being a dense material, Pool cues are often made of pakkawood. The pool cue should be a tough long stick. Otherwise, it may break into equal pieces quite easily. The density & durability of this material gives a pool cue stick the strength to hold itself and last for a long time.
Everyone looks for a cue that is strong, durable, and you surely will not be an exception here as well. So, considering this common tendency of people, lots of companies make pool cues of it. Are you familiar with diamond wood pool cues? Well, that is a pakka-cue.
Advantages & Disadvantages For Pakkawood
A question may cross your mind that why Pakkawood is so popular. The answer is pretty simple. It is offering you a good number of advantages. Nothing is perfect in this world no matter how good it is. So, it is carrying a disadvantage as well.
Advantages:
Because of the structure, This is quite dense. So this wood composite is sturdier than traditional wood as well.

Has the ability to resist heat, water, scratches, and outer hazards.

Also, quite resistant to corrosion. Even acids like HCL, HNO

3

, H

2

SO

4

do not impact it that much in a short period of time.

The wooden part is unreachable because of the protective resin layer on the surface. So its susceptibility toward bacteria and other microbial germs is zero, which secures its long-lasting service.

Yet so, this engineered material has been polished since its production process. So you can get that smooth hand feel of a glossy polished natural wood without spending extra bucks for finishing sprays.

The color of impregnated resin dye controls the color it shows. So, it may come up with any shade of color.

Increasing popularity has attracted more Pakkawood product manufacturers. And this increasing competition among sellers has benefitted the buyers with cheap but well-qualified & various products.
Disadvantages:
You can not cut the material manually. Because of the gloss, strength, or protection, any of the best attributes that Pakkawood is offering, we'll be gone the moment you expose its structure.
Care & Maintenance
Caring for a knife Pakkawood product is quite easy. Rinse the product (a knife or kitchen utensil) with soap and water. Then wipe water from it using a soft towel or rag. Never keep soaking it in water for a long time because water softens, thus softens & weakens almost anything.
A common question you may think about like others – Is Pakkawood Dishwasher Safe? Well, the answer is no. Because the dishwasher damages the veneer's water resistance ability.
You can also use mineral or tung oil and wipe with a soft cloth to retain the glossy look.
Reason Why Pakkawood Is So Popular to knife enthusiasts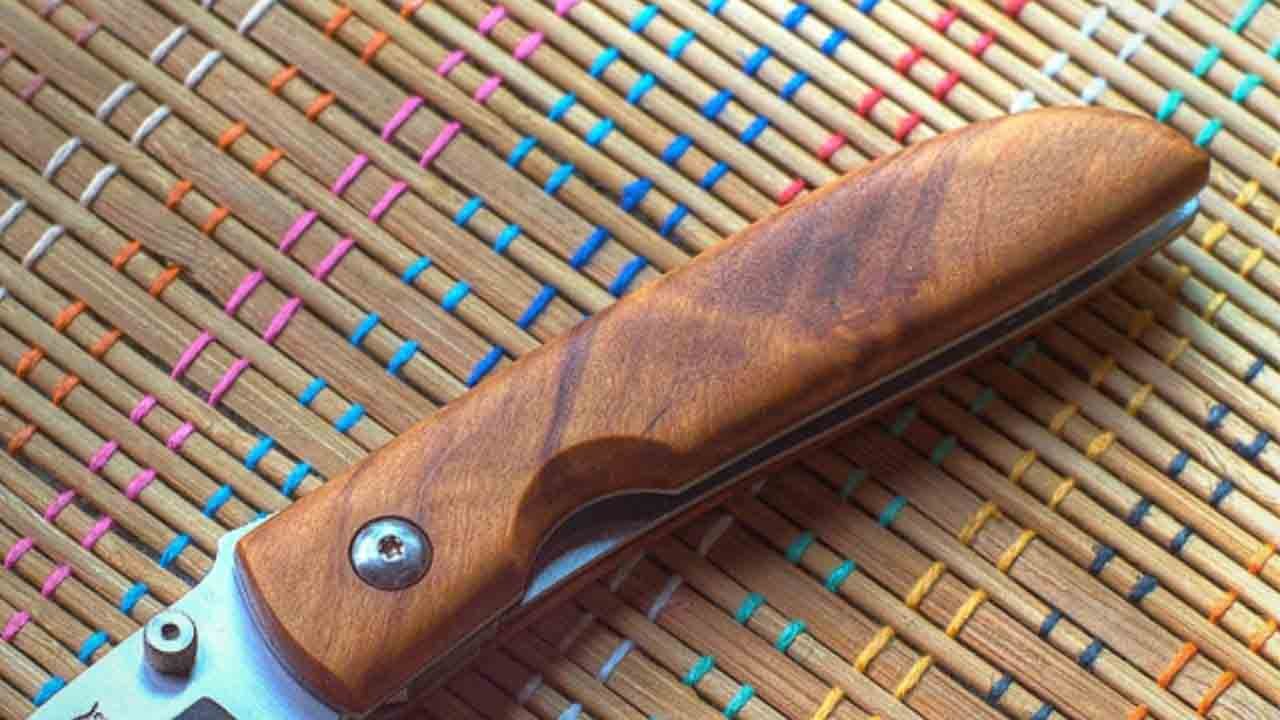 This serves the identical feel and appearance of natural wood. Besides, this composite material is way more durable, elegant, and most importantly nicely resistant toward heat, water, dust, and microbial things than natural wood. Natural wood-made knife handles can easily split and warp when exposed to moisture, or can easily get burned. Pakkawood stays on top there instead.
So a knife handle made of Pakkawood gives you an edge there. Because you will want to use your knife anywhere, with ease. Also, it comes with color variations that make it so attractive, popular, and the best alternative to natural wood.
Some Companies That Produce from Pakkawood
Dalstrong knives

Elk Ridge

Shun cutlery

Ytuomzi

Trudeau
Conclusion
As you have learned what is pakkawood offering you, it is quite transparent to you what material should you consider while choosing your knife and kitchen utensils. Also, It is completely worth the price range. This is one of the most welcoming gifts modern science has offered us.