Wusthof is a top competitor in the knife world, and if you are considering purchasing one of these Wusthof knives, you will be making a wise decision. However, as you may be aware, Wusthof Knives come in two varieties: Classic and Gourmet. So, here's the thing: Wusthof Classic vs Gourmet knives, which one should you Consider?
It's worth noticing that these two designs are almost identical. The brand guarantees the highest level of built quality and performance. However, there are some significant distinctions between these two Wusthof knife lines in terms of blade material, sharpness, weight, and design.
So, before you invest a lot of money on a fancy knife set or a new chef's knife, it's crucial to understand what you're getting.
QUICK COMPARISON CHART: WUSTHOF VS GOURMET
PARAMETERS
WUSTHOF CLASSIC
WUSTHOF GOURMET

Blade Material

High-Carbon Stainless-Steel (rust-resistant)

High-Carbon Stainless-Steel (rust-resistant)

Handle Material

Polyoxymethylene (POM)

Polyoxymethylene (POM)

Build

Forged

Stamped

Rockwell Hardness Scale

58 Units

56 Units

Bolster Type

Full Bolster

No Bolster

Price

Expensive

Comparatively Cheaper

Wight

Comparatively Heavier

Comparatively Light-weight

Edge Angle/

PEtec

(Precision Edge)

14-Degree Per Side

18-Degree Per Side

Tang

Full Tang and Exposed

Full Tang and Non-Exposed

No. of Rivets 

Triple-Riveted

Triple-Riveted
Wusthof Knives Classic | A Quick Overview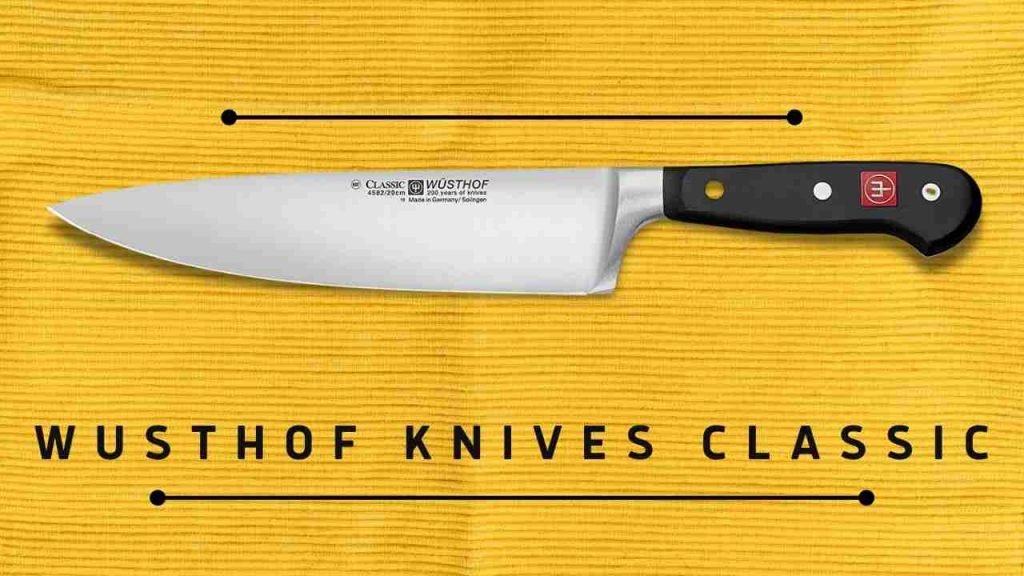 The Classic version of Wusthof Knives is quite popular because of the blade quality and performance. It is extremely well designed and has an incredible sense of balance. Furthermore, the materials, design, and workmanship used in the creation of this knife are all of the highest calibers. 
However, don't take our words for granted. Let's take a quick look at the Wusthof Classic Knife.
Build Material
Wusthof Classic blades are constructed with a  special combination of steel, carbon, chromium, molybdenum, and vanadium. The mixture is intended to increase hardness, durability, and resist corrosion. 
In terms of handle, the "Classic" features a synthetic material called Polyoxymethylene, or POM for short.
POM has a tight chemical composition, making it highly durable, tough, and resilient to discoloration or fading. It can withstand repeated exposure to moisture and high temperatures, which is ideal for any knife handle.
Design
The design features a black handle that has a fully exposed tang, three steel rivets, and a thick bolster in the traditional style curvature. Also, the black surface of the handle contrasts nicely with the shiny and smooth steel blade. The blade is heavy, seamless, and shiny. These knives not only look stunning, but they also have a unique style that adds safety and comfort at the same time.
Sharpness
Classic Wusthof knives have a razor-sharp edge that is sharpened at 28 degrees (Combining both sides). 
However, there are knives with sharper edges on the market, but unless you work as a sushi chef, a 28-degree edge is ideal. 
When a knife's edge becomes too sharp, it becomes brittle and more likely to chip.
But Wusthof Classic knives strike the perfect balance between being sharp enough to slice through a ripe tomato and being tough enough to break through bones and cut rock-hard vegetables.
Edge Retention
Wusthof Classic knives have the best edge retention in the industry due to the combination of high-quality steel and diligent manufacturing processes, or PEtec technology. 
Furthermore, despite the heavy use, you do not need to sharpen your knife regularly.
Price
Wusthof Classic knives are not cheap. As you know, premium products have premium prices. However, they are also not the most expensive in the market.
Wusthof Knives Gourmet | A quick Overview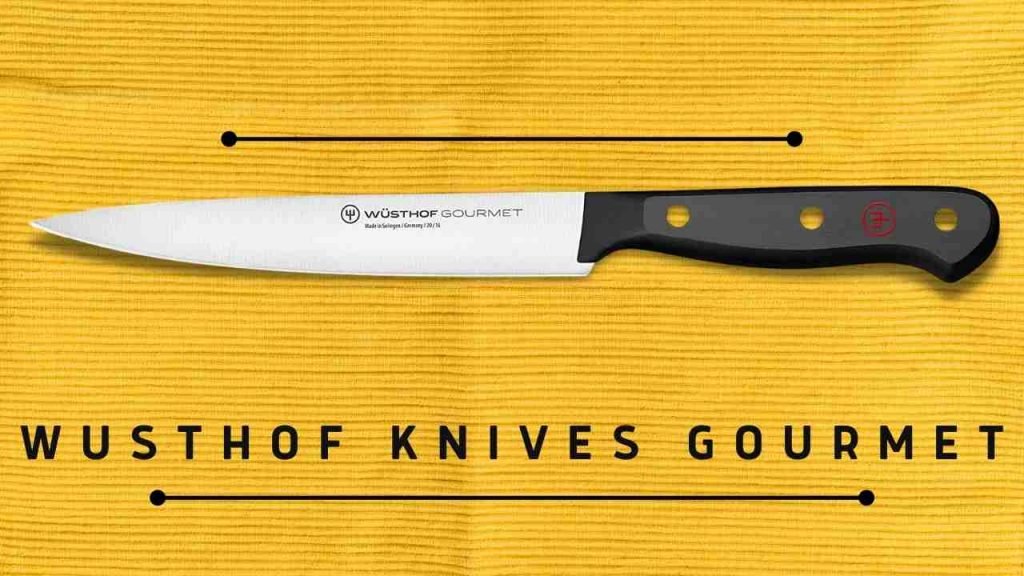 Wusthof Gourmet Knives are also high-quality knives. However, these knives are lighter and have stamped blades rather than forged ones. 
Build Material
Gourmet knives are crafted from high carbon stainless steel and have a Rockwell hardness rating of 58! This rating indicates that the knife's cutting edge will hold up very well over time and usage. The blade is constructed with a single piece of metal that extends to the end of the handle.
The handle features the same materials as the classic Wusthof knife. 
Design
The gourmet has a traditional sharp edge design with an 18-inch angle on each side.
It does not, however, have the same full bolster to protect your fingers. This means that if your hand slips while using the knife, your fingers are a little more vulnerable to being cut.
It has a full tang design only when the blade is longer than 4.5 inches. So, there is a chance the handle may detach/break while cutting a piece of meat or going through a bone fragment.
Having said that, the ergonomic handle and the balanced full tang that extends to the end make this blade very comfortable to hold. It is actually slightly lighter than the Classic blade, weighing only 6.4 ounces.
Sharpness
The blade of the Wusthof Gourmet knife is extremely sharp with an edge angle of 18-degrees on both sides. They are, however, not as thick or as sharp as the blades found on Wusthof Classic knives. But even so, if properly maintained, the 36-degree grind is sharp enough for most home kitchen applications.
Edge Retention
The edge retention of Gourmet is quite good. However, most culinary applications have low wear, so as long as you avoid putting sideways strain on the edge, you can do a lot of cutting before needing to touch it up.
These knives also have PEtec, or precision edge technology, that helps to reduce blade edge angles for exceptional sharpness and control.
Price
The price is reasonable compared to Wusthof Classic knives.  In other words, the Gourmet line is more an affordable version of Wusthof despite having high-quality material and great performance.
Wusthof Classic vs Gourmet Knife Set: What Are the Primary Distinctions?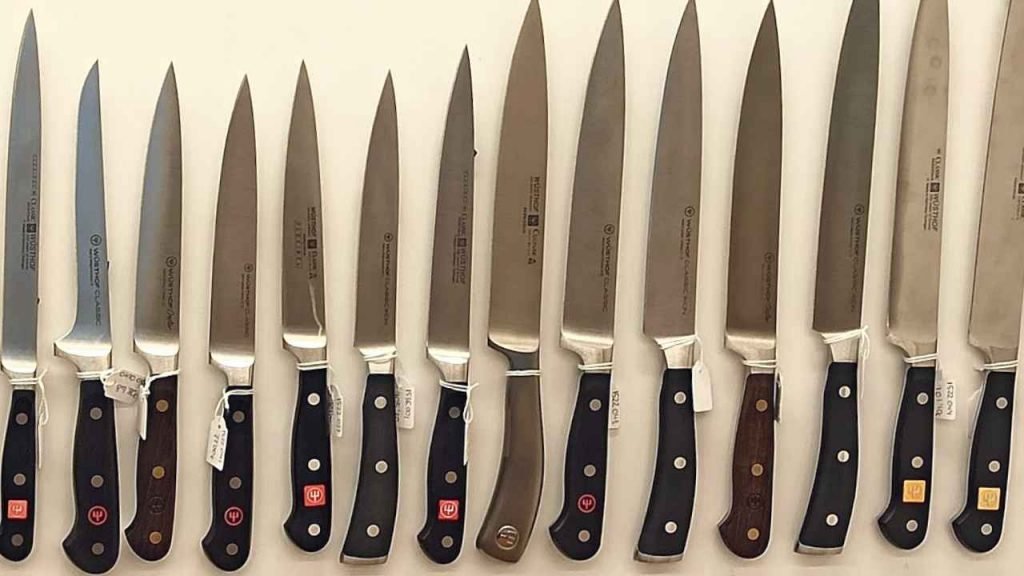 As we mentioned above, these two versions of the Wusthof knife are mostly similar. Though, there are a few primary dissimilarities you will find between them, which will indicate the type that suits you the most. 
Specifically, there are seven key differences between these two Wusthof lines. So, let's have an in-depth discussion on those factors. 
1. Forged vs Stamped Construction
The main difference between the Wusthof Classic Vs Gourmet line is the manufacturing process. The Gourmet line is stamped, whereas the Classic line is forged. But what does it all mean? And what is the significance of this?
The manufacturing process has a significant influence on the quality, performance, and price, especially when it comes to kitchen knives.  
Wusthof Classic blade is constructed using the traditional forging technique, which explains why it looks and sounds more authentic than most other knives.
Wusthof's Classic line knives are heat-molded from a single piece of high-carbon stainless steel which includes a 40-step process. This method produces a blade that is hard, thick, and long-lasting.
This forging process allows them to create a steel bolster, which is a thick lip that connects the blade and the handle together. Moreover, the bolster keeps your hand from slipping while chopping food items.  
In general, a forged knife is heavier and more durable. However, forged knives require more labor, time, and money to produce, so they are more expensive. 
Now, Wusthof's Gourmet line features a 14-step manufacturing process in which they are stamped out of a large sheet of steel. It is a simpler and more modern method of producing a knife, but it lacks the authentic feel of the traditional forging technique.
Moreover, stamped knives are lighter in weight and of lower grade. So, eventually, they are much less expensive compared to forged ones. 
2. 14-Degree Vs 18-Degree edge angle
A blade's edge angle dictates how sharp it will be and is thus a crucial factor to consider when picking up a knife.
Wusthof Classic knives have a 14-degree edge angle on both sides, whereas Gourmet knives have an 18-degree edge angle.
You might be asking why Wusthof doesn't make the edges as crisp as possible. The reason behind this is that as you sharpen the edge, it becomes thinner and more prone to breaking or dulling. An edge angle of 14-20 degrees is ideal for kitchen knives because it strikes the optimal mix between performance and longevity.
In other words, the Classic knife will be significantly sharper. Also, the Classic line can handle a sharper blade since the blades are tougher. 
However, despite falling slightly behind, the Gourmet knife is still within the ideal range, as any edge angle between 14 and 20 degrees will provide a good balance of blade durability and performance.
There's more. Wusthof's forged knives, including the Classic version, employ a technique called PEtec or PrecisionEdge Technology to generate the optimum edge, in addition to their capacity to handle a sharper edge.
3. 58-Rockwell Hardness Vs 56-Rockwell Hardness Rating
Blade hardness is another crucial factor to consider when deciding between Wusthof Classic vs Gourmet Knives since it does have a huge impact on the performance and lifespan of a knife.
The Rockwell Hardness Rating or Rockwell scale helps to assess blade hardness, which generally runs from 50 (the softest) to 60 (the hardest). Though, this might vary from brand to brand.
The crucial thing to realize is that harder blades can withstand a sharper edge; nevertheless, contrary to popular belief, overly strong/hard blades are less durable and more prone to chip.
However, Because of this increased hardness, the Classic line will keep a sharper edge.
The majority of Wusthof knives are manufactured in the optimal range of 55-60 on the Rockwell scale. So, you can see the Classic line is somewhat tougher with a score of 58 than the Gourmet line, which has a score of 56.
Even though the Classic line has a somewhat tougher blade than the Gourmet line, all Wusthof blades feature the highest quality stainless steel.
4. Exposed Full Tang Vs Non-Exposed Full Tang
A complete tang is one of the easiest ways to identify a high-quality knife. Tangs come in two sizes: full and half. A full tang reaches all the way to the bottom of the handle, whereas a half tang extends halfway down the handle.
All knives in the Classic and Gourmet lines have a full tang. However, Classic knives feature an exposed tang that is kept in place by three rivets, giving refinement to the handle design. In other words, the tang runs the whole width of the handle, offering optimal durability and balance.
In the case of Gourmet knives, they feature full tang. But they do not span the entire width of the handle and hence are not exposed like the Classic series.
5. Bolster Vs Non-Bolster Knife
Another notable difference between the Classic and Gourmet lines is that the Classic line includes a bolster, whereas the Gourmet line does not.
The thick section of the knife between the handle and the blade is known as the bolster.
The bolster gives weight and balance to the knife while preventing your hand from sliding onto the blade. 
Moreover, bolster promotes balance between the knife's blade and handle. With the help of this, the entire knife is perfectly balanced, and neither the blade nor the grip gets lighter or heavier. 
As the Gourmet line doesn't feature any bolster, you must be extra careful not to slide your hand when chopping.
 6. Heavy Vs Lightweight Knife
Wusthof Classic knives have a bolster, a complete tang, and a somewhat thicker blade, which adds weight and makes them slightly heavier than Gourmet knives.
For example, the 8-inch cook knives from the classic series will weigh roughly 9.1 ounces, which is heavier than the 8-ounce Gourmet knife.
When it comes to knives, one ounce makes a tremendous difference when you take one up and start chopping things. Because when you pick up a knife, you can feel the difference since they are such little items. 
While many chefs seem to appreciate the added weight, many other knife users prefer a lighter knife, so a heavier one is not necessarily the ideal option for everyone.
7. Expensive Vs Low Price Range
Finally, another crucial comparison factor of these series is the price range. The fact is, Classic series knives are pricey, but Gourmet series knives are affordable.
As we've seen, the Wusthof Classic line outperforms the Gourmet range in many ways. The Gourmet line, on the other hand, wins by a wide margin in one category: pricing.
The Gourmet line, while still of good quality and performance, is intended to be a lower-end, more economical variant of the Classic range. Gourmet knives, as previously said, are stamped, lack a bolster, certain knives in the collection have a half tang, and their blades are not honed with PETec. All of these distinctions influence both the quality and the pricing.
The classic series knives, on the other hand, are forged and heat-treated. They are rust-resistant, have the sharpest double bevel cutting profile, and have a PETech edge that is durable and does not deform. 
Therefore, you pay a significant amount for classic series knives, as these knives are hybrid and have a lot of features that you can use for a long time.
Gourmet knives are currently 30 to 150 percent less expensive than Classic knives on the market. However, prices are often shifting.
WUSTHOF CLASSIC VS GOURMET KNIFE SET: WHAT ARE THE SIMILARITIES?
Aside from the differences, Wusthof Classic and Gourmet knives share numerous characteristics, including the materials used in their construction, handle design, and blade shape. Let's get a glance at them also.
The Build Materials
When it comes to Wusthof Classic Vs Gourmet knives they include the same materials that are in use to manufacture high-quality and long-lasting blades.
As previously stated, their handles feature "Polyoxymethylene" (POM), a synthetic polymer. POM is designed to be exceedingly durable and dimensionally stable. 
It is used in the production of eyeglass frames, ski bindings, tiny gear wheels, and, in this case, knife handles. POM has a rigid molecular structure, which makes it more resistant to fading and discoloration.
The materials used to create Wusthof Classic and Gourmet blades are the same, even though the manufacturing process is significantly different.
Wusthof's blades are made of high-quality X50CrMoV15 stainless steel. It contains molybdenum and vanadium, which improve strength, durability, and rust resistance. It results in a utensil that will last a very long time.
Moreover, their blades are composed of a proprietary alloy, chemical components, and minerals, resulting in robust and resilient blades that will not discolor or corrode with time. 
The Design
You might not be able to discern the difference between Classic and Gourmet knives at first sight.
The blades have the same form and shape. Both of their handles are sleek and black in color, with nearly identical shapes.
However, there are some minor design variances. The Wusthof Classic has a bolster and a tang that's fully exposed in the handles. Whereas the Wusthof Gourmet knife lacks this function.
Cleaning Procedure
You can clean both the Wusthof Classic and Gourmet in the same manner. However, even the cleaning instructions for both sets are the same. They must be cleaned promptly.
Furthermore, Wusthof knives perform best when hand-washed. Because when the blades rub against each other in the motorized wash, they may be damaged.
Here are some additional cleaning hints. After using your Wusthof knife, it should be washed right away. Because If food and spices stay on the blade for a long time, they may become damaged and rusted.
When cleaning, always use a moist cloth or sponge with warm water and liquid soap.
After washing, immediately dry the knife.
What are the Product Options With Wusthof's Classic and Gourmet Knife Series?
Any category of knives you pick will provide a variety of possibilities while keeping your cooking needs in mind. The Wusthof Classic has 39 knife sets to choose from, all of which are unique.
Wusthof Gourmet knives, on the other hand, have a range of 37 knife sets that are not only different but also have distinguishing characteristics.
However, there are more possibilities than you will ever need, regardless of whatever line you pick.
Who Should Use These Knives?
The Wusthof Gourmet Series is regarded as the entry-level range for home chefs who are just beginning to create their cutlery collection. With a modest price tag and riveted handles similar to those found in the Wusthof Classic Series, these knives are an excellent place to start for any cutlery connoisseur.
The Wusthof Gourmet Series is an excellent alternative for anybody searching for more cutlery options who are ready to invest in long-term knife upkeep.
In the case of the Wusthof classic line, they are an excellent choice for anybody looking for forged, full-tang Wusthof blades.
So, Wusthof Classic or Gourmet Knives? – Final Thoughts
Finally, after an in-depth discussion on both of these Wusthof knife series, we now know that the Wusthof classic will be the better option over the Gourmet line.
This is because the classic series features good build quality, sharpness, and durability. Moreover, this series would also appeal to a wide range of customers since it provides exceptional performance while having a great appearance and hand-feel.
On the contrary, the high-quality Wusthof Gourmet line is also long-lasting. However, it does not outperform the Classic. 
So, in our opinion, the Classic line is well worth the cost. Because kitchen knives are a product that the majority of people use on a daily basis. The knives in the Classic range are sharper, more robust, safer thanks to the bolster, and have the perfect weight and balance.
However, if a whole set of Wusthof Classic knives is out of your price range, we recommend sticking with the Classic knives you'll use the most, such as the Wusthof Classic Chef's knife, Santoku knife, and the Wusthof classic ikon knife. You may also purchase the Gourmet line for knives that you will not use frequently.
In the end, while talking about Wusthof Classic Vs Gourmet Knives no matter what you buy, always consider buying the best one though it costs more.