Japanese knives are famous for their gorgeous and intricate design, as well as the cuts they deliver. So, if your choice is between any Japanese-style kitchen knife, then you are on the right track. You probably know that Yoshihiro and Shun are two brands to look for when purchasing  Japanese knives. Both these brands are best for making quality knives for professionals and home users. However, when it comes to Yoshihiro vs Shun in terms of quality and performance, you will find some dissimilarities. Though, both brands produce traditionally handcrafted knives with good care. 
So, if you can't decide between these two brands, we'll assist you by comparing the knives, their build quality, design, and other considerations. 
A BRIEF VIEW ON YOSHIHIRO KNIVES
In Japan, the Yoshihiro knife brand has been a significant seller of luxury kitchen cutlery. In fact, they've been creating Japanese knives for over a century. However, Yoshihiro is still a relatively new name in the US knife industry. 
Since they began selling internationally in 2008, the brand has swiftly established a reputation for supplying some of the cheapest Japanese knives for both amateur and professional cooks.
The meticulous attention that goes into each knife's manufacturing is one of the most distinguishing qualities of the Yoshihiro brand. Yoshihiro's blades are made from a range of metals (15 different kinds of steel), have a variety of handle styles, and come in diverse forms and patterns. 
It means you may choose a knife ideal for your kitchen rather than settling for a generic knife with characteristics you don't want or need. 
Yoshihiro knives are surprisingly reasonable considering their precise craftsmanship and culinary appeal.
So, in other words, Yoshihiro Knives are not your typical kitchen knives. Instead, they are high-end Japanese knives that work brilliantly in the kitchen.
A BRIEF VIEW ON SHUN KNIVES
Shun creates some of its most stunning kitchen knives available today by sticking to the traditional procedures handed down from Japanese sword manufacturers. Indeed, their precision cutlery brand is primarily able to highlight Japanese blades in the United States.
Shun knives are made entirely by hand. All Shun blades are manufactured using Japanese traditional techniques. However, the process differs between collections.
Shun uses high-grade steel in its blades, such as Dual-Core VG10/VG2, VG-MAX, VG10, and AUS10A. Shun's steel alloys are all high-quality and capable of keeping a very sharp edge for a long time.
Shun knives are intended to display the Japanese artistry that goes into their creation.
They presently have eight collections to choose from, so the style differs. The general look, however, is classical Japanese.
Shun produces high-quality Japanese-style kitchen knives. Though they're pricey, they're well worth it since you get beautiful handmade knives that generate the perfect slicing experience.
YOSHIHIRO VS SHUN – PRODUCT OPTIONS
There are a ton of knife options you can find, whether it's Yoshihiro or Shun. However, when you're talking about Yoshihiro vs shun, everything needs to be specific. Shun now makes eight distinct sets, and while they are all generally Japanese-style, there are a few variances in terms of optimal application and skill level.
Yoshihiro has introduced several knife series with Options for everyone from beginners to experts. In other words, this brand features Gyuto, Santoku, Nakiri, filet, and practically every sort of knife you can think of. 
So, let's get into some of their finest creations in the knife industry. 
Yoshihiro Knives | Top Three Picks
Yoshihiro Gyuto Japanese Chefs Knife
High-quality build material
Strong blade
Comfortable and easy to handle
Yoshihiro Hammered Damascus Stainless Steel Paring Utility Knife
Forged knife
Strong blade
High-quality material
Yoshihiro NSW Hammered Damascus Usuba Vegetable Chef knife
Tough and durable
Easy to clean
Extremely sharp
1. Yoshihiro VG-10 Damascus Gyuto Japanese Chefs Knife
The Yoshihiro VG-10 is a 46 layered Damascus Gyuto knife series. The name Gyuto refers to a type of Japanese chef's knife with a curved blade that gently swings back and forth with an expanded tip for rapid chopping. It is suitable for cutting meat, fish, and vegetables.
The Build Material: The VG-10 Hammered Damascus Series is forged and hammered with 46 layers of steel in the Damascus style VG-10 Core.
The blade features VG-10, a kind of Japanese stainless steel typically seen in high-end Japanese flatware. Moreover, the knife has a higher hardness level, of 60 HRC, which is stronger than most other stainless steel flatware on the market. 
The knife's stain resistance performance comes from the VG-10 steel core and the outside Damascus steel. The hammered roughness of the knife reduces friction and prevents food from clinging to it.
Handle: This knife is complemented by a handmade traditional Japanese Wa-style octagonal handle that is lightweight and ergonomically conforms to the hand for an optimal user experience while cutting.
Wight: The thickness of the Yoshihiro VG-10 Hammered Damascus Series is very low, resulting in a razor-sharp blade and an overall lightness of weight that makes it simple to operate.
2. Yoshihiro VG-10 Hammered Damascus Stainless Steel Paring Utility Knife
The VG-10 is a 16 layer Hammered Damascus perennial series that combines performance, beauty, and exceptional value.
It's a paring knife, also known as a Peeling knife, resembles a chef's knife and has a medium-sized sharp blade that can handle both small and large chores.
Build Material: The knife is Forged and hammered in the Damascus manner with 16 layers of steel that come with a VG-10 core. So, you can see, just like the previous knife, it also features VG-10 stainless steel. The steel is stain-resistant.
Design: With its exquisite 16 layers of hammered exterior steel the knife features a decorative yet useful design that reduces friction and prevents food from adhering to the blade.
Handle: It comes with a fine handcrafted mahogany handle that reaches all the way to the knife's tang and is ergonomically designed to fit the hand for a pleasant cutting experience.
3. Yoshihiro NSW Hammered Damascus Usuba Vegetable Chef knife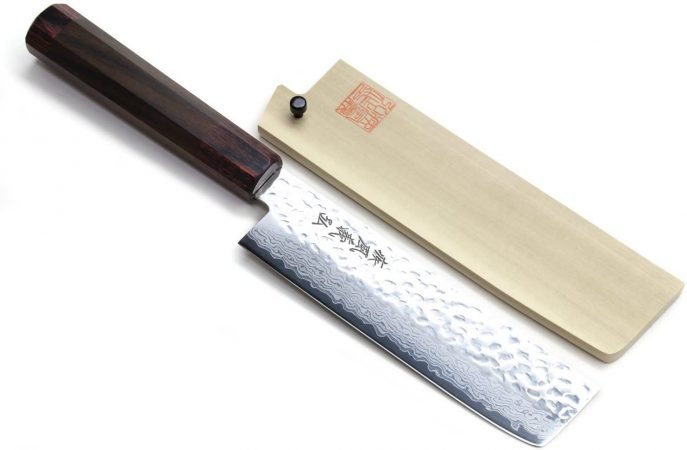 The Yoshihiro NSW is 46 layers hammered Damascus Usuba knife with a Shitan rosewood handle. It's a Nakiri vegetable chef knife handcrafted in Japan.
Build Material: Just like Yoshihiro's other knife models this product is also forged and hammered with an extensive 46-layers of steel including a VG-10 core. 
Performance: It is a Nakiri knife with a double-edged flat cutting edge. Therefore, with each stroke, the whole length of the blade comes into contact with the cutting surface. 
In other words, you are getting a thorough cut with less possibility of veggies clinging together by a thread.
Handle: This knife is complemented by a handmade octagonal natural Shitan Rosewood handle with a double bolster in traditional Japanese design.  
Shun Knives | Top Three Picks
Shun Classic 6-piece Slim Knife Block Set
Razor-sharp blade
Stainless-steel blade
Easy to handle
Shun Sora 8 inch Chef Knife
High-quality material
Stainless steel blade
It's an all-purpose knife


Shun Cutlery Classic 6.5" Nakiri Knife
Super-sharp blade
Easy to handle
Excellent cutting experience
1. Shun Classic 6-piece Slim Knife Block Set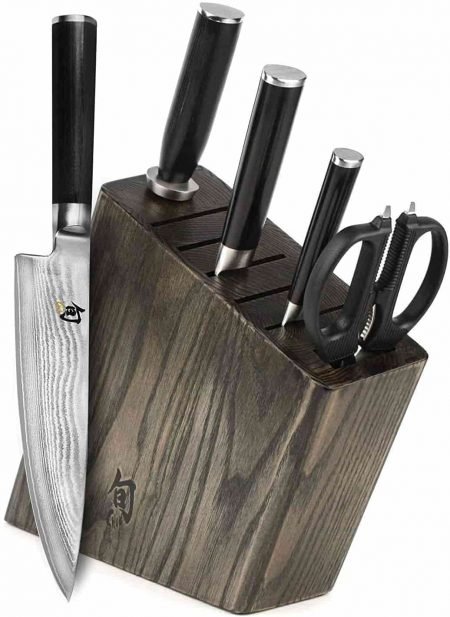 Shun Classic knives have Damascus-clad blades with D-shaped ebony PakkaWood handles. Its razor-sharp blades provide excellent performance.
Build Material: The blade has a VG-MAX cutting core with 34 layers (on both sides) with stainless Damascus cladding.
Moreover, the edge retention of Shun's unique high-performance VG-MAX steel is outstanding. Handcrafted from durable Damascus stainless steel, the blades are honed and bead-blasted to create a flowing pattern of layered steel.
Hardness and Sharpness: Shun's Classic 6-piece slim knife features a Rockwell hardness of 60-61. In other words, the blades are strong enough to last long. Also, these hand-sharpened Japanese double-bevel blades are super-sharp with a 16-degree edge angle (each side).
Handle and Design: The D-shaped PakkaWood handle is sturdy, durable, and moisture resistant. It's also handmade in Seki, Japan. So you're getting a lovely traditional knife set in your kitchen.
2. Shun Sora 8 inch Chef Knife (NSF Certified)
The Shun Sora Chef's Knife is an all-purpose knife that can be used for a range of cutting activities such as slicing, dicing, and chopping fruits and vegetables. It serves the same function as a chef's knife in terms of all-around food preparation.
Build Material: Sora employs Shun's exclusive composite blade technology, which combines a VG10 san mai cutting edge with a Japanese 420J stainless steel blade. The two-blade portions are laser cut and fit together like jigsaw pieces, and braze welding firmly joins them.
Design: Handcrafted in Japan's Seki City, the knife features a beautiful wavy pattern inspired by Japanese sword Hamon lines.
Handle: The textured PP/TPE polymer blend handle material has a modern aesthetic look, a solid grip, and is easy to clean. Also, the handle is enhanced and balanced by the embossed stainless steel logo.
3. Shun Cutlery Classic 6.5" Nakiri Knife

When you hold the Shun Classic Nakiri in your hands, you'll understand why professional chefs and home cooks all around the world like this gorgeous and incredibly handy instrument anytime they're preparing fruits or vegetables.
The Build Material: This nakiri knife comes with a rust-resistant stainless steel-clad blade. In addition, the knife's surface prevents chopped veggies from adhering to the blade.
Sharpness: Its proprietary VG-MAX cutting core is wear and corrosion-resistant, robust, and extremely fine-grained, resulting in a razor-sharp, long-lasting 16° edge.
Handle: The handle is composed of ebony-colored PakkaWood, a fused combination of hardwood veneers coated with waterproof resin that blends the traditional appearance and feels of wood with the strength and durability of plastic. 
The offset stainless-steel bolster is ergonomically built for optimal safety, and a stainless-steel end cap completes the look.
Yoshihiro vs Shun – What Are The Key Differences?
Yoshihiro and Shun knives are comparable in many aspects, and they both provide useful and long-lasting knife solutions. However, when it comes to Yoshihiro vs shun, their differences become the deciding element.
Yoshihiro and Shun knives can be distinguished by their performance, construction, design, sharpness, hardness, and other characteristics. So, let's have a look at those variables.
Design and Build Quality
Yoshihiro offers a large assortment of knives with various styles and features, but one thing that is similar in all of their goods is the use of high carbon stainless steel. 
There are around 20 distinct steel kinds utilized in various blades, but the hardness provides these knives with greater edge retention and sharpness when compared to standard Western-style knives.
Furthermore, the bulk of their cutlery is constructed from single pieces of forged blades, making them far more robust than knives with stamped blades. 
Yoshihiro appears to go against the traditional practice of having a pretty strict selection of knives, but what this implies for consumers is access to a broader range of cutlery types and kinds.
The Shun brand, on the other hand, offers a more restricted knife line that is confined to seven regular collections. These collections are distinguished by various Japanese steels ranging from the well-known VG-Max through VGS and SG2 steel. 
All of these steel materials, however, have a high level of hardness, just as those employed by Yoshihiro.
Furthermore, Shun occasionally employs Nitrogen cooling or ice-hardening to increase endurance, although Yoshihiro does not.
Sharpness
Yoshihiro knives typically have an edge angle of 15 to 20 degrees. This range indicates that these knives have a razor-sharp action.
Shun knives are particularly well-known for their razor-sharp blade edges. We all know that the smaller the cutting angle, the higher the sharpness. Shun knives are honed on both sides of the blade to 15 – 16 degrees. As a result, they deliver a razor-sharp service.
Knife Handle
The handle is a crucial factor for a comfortable user experience while working with a knife. However, when it comes to Yoshihiro vs shun, you may have different experiences with these two brands. Shun knife feature well-finished polymer or Pakkawood handles.
The fact is, Shun handles are full tang and adaptable, yet they are not riveted at all. They are also available in a circular form and with an end cap. It gives the knife a VIP appearance and adds luxury to your hand.
Yoshihiro, on the other hand, values balance, delivery, and mobility over beauty, luxury, and finishing. That's why their handles, as well as their blades, survive so long. Yoshihiro handles are full-tang, riveted, and non-splitting.
Some knives have a Pakkawood hexagonal handle, while others have an Asian style. Yoshihiro knives also have a Mongolian hardwood sheath.
Price
Another crucial factor between Yoshihiro vs shun is their price. As you know by now, Yoshihiro knives are handcrafted following traditional Japanese techniques. Handmade items are constantly in high demand. In fact, people look for originality in every product, and handcrafted items may provide that.
Yoshihiro knives are a little more expensive because they are handcrafted. They sell knives and knife sets for different rates, starting at around a hundred dollars.
The pricing range might be between $100 and $1000, depending on the material and quality.
Shun knives, on the other hand, are somewhat less expensive than Yoshihiro knives.  You can purchase them for less than a hundred dollars.
However, in addition to the low-cost blades, Shun Cutlery also offers several high-priced knives. Knives worth $2000, for example, are also available. Shun's pricing range varies since you can get a single or pair of knives made from a range of materials.
We are reviewing top Kitchen Chefs' knives under 100 dollars on the market!
Yoshihiro vs Shun – Which One is Best For You?
As you saw, there are very few differences between these two brands. Both these brands produce durable and quality knives for all ranges of users. In other words, when comparing Yoshihiro and Shun, however, they are very distinct firms, although both are excellent Japanese knife producers. 
Yoshihiro manufactures some VERY high-end Yanagibas that Shun doesn't even attempt to compete with. So, you can buy Yoshihiro if you want a very well-crafted Japanese slicing knife that is perhaps the best money can buy!
In the case of Shun knives, it offers a more traditional business plan with a decent, better, best line-up of knives that caters to a broader range of clients than Yoshihiro. When you mention the Shun Classic or Premier Series knives, most kitchen knife fans will know exactly what you're referring to. 
So, you should buy Shun if you want a high-quality, high-performance Japanese knife for your home kitchen.
But comparing all the factors between Yoshihiro vs Shun, we recommend Yoshihiro over Shun. Because – 
Yoshihiro's handmade workmanship gives it a distinct traditional outside appearance.

The sharpness of high carbon steel material is unrivaled.

There is no risk of discoloration or corrosion.

Can slice meat and other foods into precise thin pieces.

 It fits nicely inside the palm of your hand and is quite simple to clean.
Also, for Shun knives the sharpening method is a bit complicated compared to Yoshihiro knives. Like they don't stay sharp for long, so you have to sharpen them regularly. Moreover, after each usage, you must keep it dry.
However, while making a decision, you must select a brand that will meet your cutlery requirements.
Final Thoughts 
The truth is that comparing Yoshihiro versus Shun is more of a personal preference, as both offer functional and long-lasting solutions. 
Yoshihiro may be the more well-known brand, having a wider range of collections to pick from. However, Shun also provides similarly great and handy collections for both professional chefs and home cooks.
However, it is critical to consider all of the factors that contribute to a knife's value and ability to suit all of your needs. Regardless of the brand's reputation, you should consider the material type, blade design, sharpness, and comfortability when deciding which knife is best for you.
When it comes to brands, some western knife makers are currently attempting to produce or mold their blades in the style of a Japanese knife. Wusthof remains at the top of the list, and they have already begun producing Santoku on a commercial scale. So you may look them up as well.