When it comes to knife manufacturers, Dalstrong and Wusthof are two of the most well-known companies. Many chefs and household cooks use their blades as they are quite popular in the knife industry.
Both these knife brands have their own story on producing quality knives for the mass. Talking about Wusthof, they have been producing classic German-style kitchen knives, and they are one of the world's best-selling cutlery manufacturers.
Dalstrong, on the other hand, was founded in 2012, but it has already made a reputation for itself with elegant designs that cross the barriers between Western and Asian fashion. 
However, when it comes to Dalstrong vs Wusthof knives, you have to be picky as there are some major differences between them. In order to determine which one is the best, you must first grasp their differences in terms of construction, build quality, design, and other factors. 
So, let's find out what and what not to consider with our in-depth research on Dalstrong vs Wusthof.
Dalstrong Vs Wusthof: Comparison Table
| | | |
| --- | --- | --- |
| FACTORS | DALSTRONG | WUSTHOF |
| Company Foundation | 2014 | 1814 |
| Manufacturing Area | Toronto, Canada | Solingen, Germany |
| Design | Most have a triple-riveted handle with a bolster and a full tang. The design may vary according to the collection. | Triple-riveted handles, including a full tang and bolster design.  |
| Blade Type | German steel, Japanese steel, American steel, etc. It varies per collection | German steel / X50 Cr MoV 15 |
| Handle Type | G10, wood, Pekawood, resin, or stainless steel   | Wood or synthetic (POM) |
| Angle (edge) | According to different series:  8-10 degrees, 12-14 degrees, and 16-18 degrees | 14-degree (per side) |
| Rockwell Hardness | 55 – 62 HRC | 58 HRC |
| Knife Collections | 11 | 7 |
| NSF Certification | Yes | Yes |
| Price  | Pricy | Less pricey compared to Wusthof |
Dalstrong Vs Wusthof: The Brand Overview
Wusthof: When it comes to knife industry experience, Wusthof is far from a rookie! It's a family-owned firm, founded by Johann Abraham Wusthof is one of the most stable and experienced in the cutlery industry since 1814. 
The reason Wusthof is famous is that they use traditional craftsmanship with a 40 step process for making their knives. The brand produces undoubtedly high-quality silverware, some of the best money can buy. They've been praised for over two centuries, making them an excellent choice for anybody searching for high-quality knives.
The majority of their knife collections have endured the test of time and can compete with any knife in the same price range. Furthermore, they are heavy-duty, robust, and only employ the best materials to manufacture their blades.  
Some of Wusthof's popular knife collections are Wusthof classic, Wusthof Gourmet, and Wusthof classic Ikon.  
Dalstrong: Dalstrong is a relatively new brand that debuted in 2012. Even though they are new to the market, the company is already gaining attention among home cooks.
Dalstrong provides eleven knife collections or series with a diverse selection of western and Asian styles that feature steels from both Germany and Japan.
So, whether you're looking for a traditional chef's knife, a paring knife, a santoku knife, or a highly specialized knife, you get that option to choose from. 
Dalstrong's knives are constructed from a state-of-the-art facility in YangJiang, China. As a newcomer, They are dedicated to employing cutting-edge technology and production processes to deliver quality kitchen knives to home chefs for a comparatively lower price.
DALSTRONG KNIFE COLLECTIONS
Image
Product
Features
Price

DALSTRONG Chef Knife - Gladiator Series

Razor Sharp
Premium Materials

Check Price

DALSTRONG Chef Knife - Shogun Series

Aus-10 v Japanese Super Steel
66 Layers Premium High-Carbon Stainless

Check Price
Dalstrong has several knife collections. However, the most well-known are the Shogun, Gladiator, and Shadow Black series. Here we include two of our top picks from Dalstrong's Gladiator and Shogun series. 
1. DALSTRONG Chef Knife – 10″ – Gladiator Series
Key Features
Forged ThyssenKrupp HC German steel blade

Pakkawood G10 handle (Black)

The blade edge is plain

Blade Angle is 16-18 degree

Rockwell Hardness is 56+

NFS certified
The 10" Gladiator series chef knife is Dalstrong's one of the finest creations. It's an incredibly razor-sharp, full-tang knife with a full carbon German steel blade. 
This knife also comes with precisely tempered stainless steel and 16-18 degree edge angle preside. 
The handle is triple-riveted and features premium G10 Garolite material for a solid grip and maximum comfort. 
Moreover, the blade is hand polished to a smooth finish and engineered to perfection at 56+ Rockwell hardness. In other words, you are getting a knife that is carefully tapered for maximum hardness, flexibility, and slicing resistance.
2. DALSTRONG Chef Knife – 8″- Shogun Series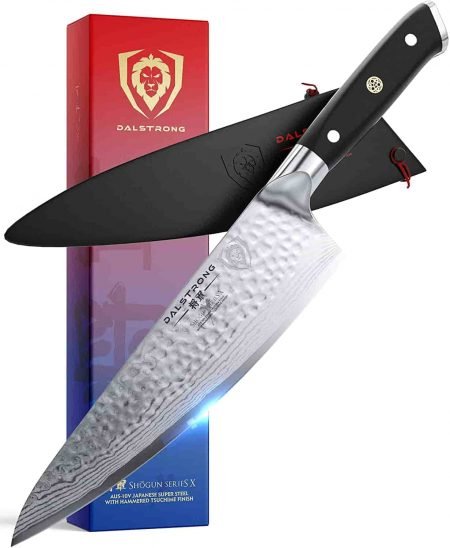 Key Features
Japanese AUS-10V super steel blade

Pakkawood black G10 handle

Plain blade edge

Rockwell hardness is 62+

Full-tang design

Triple-riveted knife
Dalstrong's 8-inch shogun series chef knife features a beautiful Tsuchime finish with an elegant design for a premium feel. 
Also, you are getting the AUS-10V Japanese super steel core for ultimate performance.  Moreover, because of its 67 alternating layers of SUS410 Damascus, you are getting a stain resistance and durable knife. 
Furthermore, the knife's exact cryogenic tempering strengthens the crystalline structure of the steel, boosting strength, flexibility, and hardness. 
Now for the grip, you are getting a military-grade G10 handle that is strong, non-porous, and highly resistant to heat, cold, and moisture.
---
WUSTHOF KNIFE COLLECTIONS
Image
Product
Features
Price

Wusthof Classic Cook's Knife

High Carbon Stainless Steel
8-Inch Cook Knife

Check Price

Wusthof Gourmet Cook's Set, 2-Piece

4-Inch Utility Knife and 8-Inch Cook's Knife
Razor Sharp

Check Price
As you know, Wusthof is a traditional knife manufacturing company. Wusthof features many quality knife lines like the Classic, Gourmet, and Ikon series. Here we included two of our favorite picks from Wusthof's Classic and Gourmet line. 
1. Wusthof Classic Cook's Knife, 8-Inch
Key Features
Stainless steel blade

Black color

Full bolster design

Rockwell hardness is 58

Triple stainless steel rivets

Weigh 8 ounces
Wusthof's 8-inch classic cook's knife features a full-tang and full bolster design. The blade is high-carbon stainless steel that is tempered to 58 HRC. 
Also, with its precision edge technology (PEtec), you are getting a 20% sharper blade with twice the edge retention compared to previous models.
The knife's ergonomic handle design features a long-lasting synthetic material that resists fading and staining.
In other words, this Classic Line knife provides the most diverse choice of cutlery to suit any home cook or professional chef.
2. Wusthof 1125060206 Gourmet Cook's Set, 2-Piece
Key Features
Stainless steel blade

Black color

Plain blade edge

Polypropylene handle

Lightweight knife

Includes 4-inch utility knife and 8-inch cook's knife
Wusthof's 1125060206 Gourmet cook's set features a high carbon stainless steel blade that is precisely cut for incredible sharpness and easy maintenance.
This knife is made to be dull and corrosion-resistant. The handle is triple-riveted and features synthetic polypropylene that resists fading, discoloration, and heat.  
Also, its precision laser cut blade hardened to 56 HRC. This knife is intuitive and uniquely lightweight which is perfect for getting started in your kitchen.
Dalstrong Vs Wusthof: What Are The Main Differences?
When it comes to Dalstrong vs. Wusthof, their differences will be the crucial factor to finding out which brand is best for you. Even though they are nearly identical in many ways, these two brands are very different in terms of material, blade hardness, guarantee, and pricing. So, let's get a brief overview of this.
Knife Construction

 
Though Dalstrong's headquarter is in Toronto, they operate and craft their knives in Yangjiang, China. 
This city has a rich culture of knife crafting. Moreover, it's known as the "Capital of Knives and Scissors" because it produces 70% of China's knives and scissors. 
Dalstrong's craftspeople apply Japanese methods like the three-step Honbazuke procedure to give the blade a fine edge.  
Now, in the case of the Wusthof knives, they are manufactured in Solingen, Germany. The production business here goes back to 1814 and employs over 400 people who precisely forge its blades. 
So, when you purchase a Wusthof knife, you are basically paying for the quality, traditional processes, and legacy that go into it.
The Design
There are several significant design changes between these two brands. For example, Dalstrong offers a more diversified selection of designs in comparison to Wusthof knives. In other words, Dalstrong's series differences are prominent when you search for them.
 Dalstrong's Gladiator series of knives incorporate classic German-style triple rivets, an exposed tang, and a Pakkawood handle. 
You can also find traditional Japanese designs, just like Dalstrong's Shadow black series. Another well-known knife line from Dalstrong is the Shogun series, a hybrid Japanese-style blade with a triple-riveted grip. 
Dalstrong's Crusader series features some unique design concepts. They introduced a historical medieval sword style with a fuller groove machined blade that is pretty distinctive among kitchen knives.
So, Dalstrong is a brand that likes to experiment with different designs by mixing western and Asian styles in its knife series. In other words, you have a wide range of design alternatives if you want to go for Dalstrong knives.
Now, if you take a look at Wusthof knives, you will see traditional German designs, especially in their classic collection.  Wusthof knives generally feature a full bolster and triple rivets with an exposed full tang.  
Wusthof's classic knife series has a robust synthetic handle. On the other hand, the Ikon handles feature African Blackwood with smoother curves.
The Grand Prix II also has a curving polypropylene grip that looks and feels synthetic. So, Wusthof's knife collections are not that diverse in terms of design. However, these simple and robust design from Wusthof knives provides you with plenty of reasons to acquire them.
The Blade material
When discussing Dalstrong vs Wusthof knives, the blade material is an important thing to consider. Dalstrong basically uses a variety of blade materials including Japanese steel, German steel, and sometimes American steel.
Dalstrong's Shogun series feature precision-forged Japanese high-carbon AUS-10V steel. It consists of 67 alternating layers of SUS410 with Damascus coating for increased stain resistance and durability.
Now if you take Dalstrong's Gladiator series, you will get ThyssenKrupp German steel as the blade material. This is high-carbon steel and its precision-forged. 
Another popular one from Dalstrong is their Shadow Black series.  This sleek knife features a black non-reflective titanium-nitride coating with unique handle geometry. 
Wusthof's most popular knife line is their classic series. They use X50CrMoV15 as their blade material. The bulk of Wüsthof knives is made from this German steel. 
Carbon, Vanadium, and Chromium are the most crucial constituents in the composition of X50CrMoV15. It makes the blade a quality stainless steel that's very unlikely to rust. 
Read Also: Stainless Steel Knives – Pros and Cons
Blade Sharpness and Hardness
Dalstrong always seems to have diversity in different sectors of knife making. For example, in terms of sharpness, it varies depending on knife collections. 
The Shogun 8-inch chef knife has been honed to an astounding 8-10 degrees on each side. On the other hand, Gladiator series knives are sharpened to 16-18 degrees on both sides.
Wusthof knives are all honed to 14 degrees on each side so, a total of 28 degrees. This angle value makes them sharp enough to cut through any ingredient while remaining sturdy for a lifetime of usage. 
Blade hardness is also a crucial factor when we discuss Dalstrong vs Wusthof knives. As far as a knife's performance and durability are concerned, its hardness is critical. 
The Rockwell scale is used to determine the hardness of a blade. Knives with good quality fall between 55 to 62 on the Rockwell scale. The softer the steel, the lower the number. A softer steel is more flexible and less prone to chipping, while harder steel can withstand and keep a sharper edge.
Now in the case of Dalstrong knives, the Rockwell hardness varies according to collections. For example, the Shogun series has 62, the Omega series provides 63, and the Gladiator collection has 55 as the blade hardness. 
Wusthof blades, on the other hand, are typically 58 HRC, which provides a good blend of durability and edge retention. However, the Gourmet series scores 56 in terms of blade hardness which is slightly softer than other Wusthof knives. 
The Handle Material
Handles are important if you value comfort while working with your knives. Dalstrong uses various materials for their knife handles like the G10, Pakkawood, stainless steel, etc. 
Dalstrong's Shogun series use G10 which is a fiberglass laminate, a perfect combination of both lightweight and toughness. So, you will have a comfortable and smooth experience with these knives.
Moreover, Dalstrong's Phantom series include Pakkawood. It's a high-quality wood/resin composite widely utilized by traditional Japanese knife makers.   
Wusthof uses a thermoplastic material called POM (Polyoxymethylene), especially in their classic series knife handles. 
This material is very durable and provides high stiffness and stability. POM also has the benefit of being exceptionally resistant to temperature and moisture fluctuations.
Wusthof also uses wood as their handle material for knives.
Overall Cost
As we discuss Dalstrong vs Wusthof knives, the price will always be the deciding factor. As you can see, each of these companies has extensive knife collections. So, the price range will vary for each knife collection. However, to be more specific, Wusthof knives are more expensive compared to Dalstrong. Obviously, there are some reasons for that.
Dalstrong is a newcomer to the market, and they manufacture their knives in China to keep costs down. In certain circumstances, Dalstrong knives are half the price of a comparable Wusthof knife.
Wusthof has a reputation in the knife industry and they hold their blade edge very well. Also, they are quite durable compared to Dalstrong knives. 
Wusthof Classic knives range from $150 to $170, whereas Dalstrong's Shogun series comes within $125 to $135. So, you can notice the price range discrepancies. 
However, Dalstrong also can be expensive for their certain products like the Dalstrong's Shogun 5-piece knife set and Gladiator 18-piece knife set. 
But in the end, Dalstrong knives are more affordable than Wusthof knives. So, if your requirements are satisfied by Dalstrong knives, then going for the cheaper option would be ideal. However, sometimes reputation and experience win the race also. 
Read Also: Are Dalstrong Knives Good?
Dalstrong Vs Wusthof: Pros and Cons
We presumably acquired some of the benefits and drawbacks of both brands from the discussion of Dalstrong vs Wusthof above. However, let us be more precise by highlighting the pros and cons so that you can determine which brand is best for you.
Dalstrong – The Goods
Diversity in the knife collection

Diversity in knife design and construction

Razor-sharp blade 

Blade hardness is up to the mark

All Dalstrong knives are forged

Less expensive compared to Wusthof knives

Limited lifetime warranty
Dalstrong – The Bads
Not durable compared to Wusthof knives

Sometimes it's hard to use the full blade because some knives feature overly large bolster

Some knives are susceptible to chipping and breaking, according to some

Dalstrong knives reviews.
Wusthof – The Goods
Experienced and well-reputed brand

Wusthof provides a well-rounded assortment of traditional Western-style knives.

Use traditional methods to manufacture quality knives

Every knife is full tang

Wusthof knives are very much durable and sharp

Includes eight knife lines

Features a durable and corrosion-resistant steel blend

Limited lifetime warranty 
Wusthof – The Bads
Lacks design variety

According to several assessments, their sharpness rapidly dulls.

Significantly more expensive than Dalstrong knives

There is no bolster in the Gourmet collection
The Final Thought: Which One Is The Most Preferable?
So, after all of this debate over Dalstrong vs Wusthof knives, we can definitely agree on which brand is better for you. However, when deciding between these two companies, it is essential to consider your own preferences.
Wusthof is an excellent alternative if you value classic Western style and are ready to make the investment. You can check the classic series, as they are Wusthof's finest creations over other collections. 
Dalstrong is a great budget-friendly alternative if you want knives with an Asian-inspired style and like the diversity of unique knife collections. You can check out the Shogun Series as you will get incredible quality within an affordable price range. 
However, in the end, Wusthof is a far superior brand compared to Dalstrong as Wusthof has a successful track record. When you buy Wusthof knives, you know you're receiving a set of high-quality, long-lasting knives from one of the world's top companies.
So, if you are willing to invest in kitchen knives and if you want a durable performance Wusthof would be a great choice after all.  
Is it ok to put Wusthof or Dalstrong knives in the dishwasher?
Both Wusthof and Dalstrong don't recommend their knives to go in the dishwasher. In fact, they advise washing their blades by hand with warm water, a moist towel, and ordinary dish detergent.
Is Dalstrong real Damascus?
No, it does not. The reason is, Dalstrong's knife lines, especially the famous Shogun series, employ contemporary steel or modern Damascus rather than genuine Damascus.
Are all Wusthof knives made in Germany?
Not all Wusthof knives are made in Germany. Some are produced in China, while others are crafted in Solingen, Germany.
However, around 65 percent of Wusthof knives are manufactured at its two state-of-the-art facilities in Solingen, Germany, and marketed in the United States.