A quality chef knife or knife set is an essential kitchen tool, especially if you spend a lot of time cutting and cooking. However, in the section on quality and performance, Japanese chef knife will get the top place. They are exceptionally sharp, can be used for a range of jobs, and provide you with a great deal of cutting control.
Although, Japanese knives brands charge a lot of money for their best products. But the fact is you can still find affordable and quality Japanese knives in the market. 
For less than $200, there are several possibilities. However, sometimes it's hard to find the best Japanese chef knives within an affordable price range as you might have to sacrifice performance over price.
So, what are the best Japanese chef knife under $200? We answered this question by covering ten of these quality knife sets that will meet your budget and provide you with performance. 
Our selection includes knives from Yoshihiro, Shun, and Damascus, and the best thing is that all of these items are around $200.
OUR TOP 3 PICKS BEST JAPANESE CHEF KNIFE UNDER $200
Shun Premier Chef Knife, 6 inch
Durable blade with the VG-MAX core
Razor-sharp blade
Genuine PakkaWood handle


DALSTRONG Chef Knife Shogun Series
Outstanding edge retention
Rust and corrosion-resistant blade
Razor-sharp


Damascus Japanese 8 Inch Chef Knife
The handle features different color combinations
Strong and durable
Provides lifetime warranty on manufacturers' defects
These knives have a quality design, a great degree of control, and provide exceptional value for money. 
However, there are other options too in the category of best Japanese chef knife under $200. Let's find out.
The 10 Best Japanese Chef Knife Under $200 – Reviews 2022
1. Shun Premier Chef Knife, 6 Inch
Product Features
Brand: Shun
Blade Material: Stainless steel
Handle Material: Pakkawood
Color: Brown
Weight: 4.9 Ounces
Dimensions: 11 x 0.75 x 1.62 inches
Description
Manufacturer: If you've never owned a Japanese knife before, you'll immediately notice how different a Shun feels in the hand. Shun uses precision heat treatment and tempering processes to produce high-quality stainless steel blades.
Shun knives are lightweight and easier to handle. Furthermore, with 16-degree edge angles, this brand offers some of the sharpest blades on the market.
Blade: Shun Premier incorporates the VG-MAX steel, the most recent addition to the VG family of "super steels." 
This exceptionally fine-grained steel is only available from Shun.
In other words, the blade has been enhanced to ensure "maximum" performance, strength, corrosion resistance, and a sharp, long-lasting edge.
Moreover, the hammered tsuchime finish of this Japanese chef knife aids an easy release of food during cutting.
Sharpness: The Premier line, like all Shun knives, has a 16-degree cutting edge that is manually honed. In other words, it's razor-sharp. The blade is double-beveled, has a rapid taper, and is flat ground.
Handle: Shun Premier has a PakkaWood Handle that provides a secure grip. PakkaWood in walnut hue is long-lasting and does not harbor germs. The engraved end cap provides a touch of elegance and proportion.
Furthermore, the handle has a complete composite tang, which adds strength and balance.
Design: The stunning tsuchime (tsoo-CHEE-may) finish of the Shun Premier series is the first thing that draws the eye. This hammered finish, paired with Premier's mirror blade polish and meticulously layered Damascus, gives Shun Premier a rustic yet refined aesthetic.
Performance
Choosing a chef's knife often necessitates a trade-off between agility and practicality. The Shun Premier 6-Inch Chef's Knife is ideal for the cook who prefers the lightweight nimbleness of a shorter blade. The knife not only performs all of the functions anticipated of a chef's knife, but it also provides the rapid, agile performance and high level of control that a slightly smaller knife can deliver. This sharp kitchen knife handles slicing, dicing, and chopping with ease, and the curved belly of the blade makes rocking cuts through herbs a breeze.
Cleaning and Sharpening: The Shun Premier Chef Knife is easy to clean. Just give it a hand wash with gentle dish soap. 
In the case of sharpening, you can use a whetstone or the Kai electric sharpener. Depending on use, the sharpening needs to be done yearly. However, all Shun and Kai knives come with free lifetime sharpening. 
2. DALSTRONG Chef Knife Shogun Series
Product Features
Brand: Dalstrong
Blade Material: Japanese AUS-10V super steel
Handle Material: G10 Handle
Blade Length: 10.25-Inch
Blade Edge: Plain
Color: Black
Weight: 10.6 Ounces
Dimensions: 15.43 x 2.09 x 0.08 inches
Description
Manufacturer: Dalstrong is a well-known knife manufacturer that employs quality steel from Japan, the United States, Germany, Sweden, and China.
Dalstrong's skilled artisans work on each knife for 30-60 days, meticulously hand-polishing and hand-finishing the blades and handles utilizing the 3-step Honbazuke honing procedure.
This ancient Japanese procedure combines high-tech processes like cryo-tempering, which enhances the crystalline structure of the steel. The fusion of current technologies enables excellent quality at a reasonable price.
Construction: This knife's structure is one of the reasons it ranks among our best Japanese chef Knife under $200. This knife is sharpened using the traditional three-step Honbazuke process and combined with cutting-edge technology. 
A sharpening stone that rotates vertically is used to coarsely grind the blade. The blade is then precisely sharpened with a sharpening stone that rotates horizontally. 
Finally, a leather stropping block helps to clean the edge.
For further delicacy performance and appearance, the Dalstrong lion head logo is beautifully etched in the blade.
Moreover, the hand-polished spine improves comfort across a wide range of grip preferences.
The Shogun Series: The Dalstrong Shogun Series X 10.25″ AUS-10V chef knife features a lovely tsuchime finish. 
The elegant hammered tsuchime finish reduces drag and minimizes stuck-on food.
The Shogun Series knife comes with a polymer Dalstrong PerfectFit saya (sheath). This Shogun knife is also embossed with the Dalstrong logo and pin closure.
So, you can ensure that your blade is properly secured either at home or on the move in a safe and secure manner.
We review other Dalstrong Knives
Handle: Its G10 ultra-premium handle is military-grade and has a long lifespan. The ergonomic handle form, which has been thoroughly hand-polished, is designed for optimum hand control, agility, and comfort. 
In addition, the blade's spine has been hand-polished for easy handling.
Performance
With this knife, you are getting scalpel-like sharpness at a mind-boggling 8-12° edge angle on each side. In other words, you can easily navigate your way through culinary tasks.
The tapering bolster offers excellent 'zero-balance equilibrium, finger protection and gently encourages a natural and comfortable pinch grasp.
Moreover, the blade is tapered for minimum slicing resistance and nonstick qualities.
Its exquisite hammered tsuchime finish is not only gorgeous, but it also helps to eliminate drag and stuck-on food.
In terms of maintenance, it's easy to clean and requires little care. 
Blade: The core of this Japanese chef knife features AUS-10V Japanese super steel. It's the best steel for maximum performance.
For stain resistance and endurance, the blade has 67 alternating layers of SUS410 Damascus.
Edge retention is exceptional at 62+ Rockwell. As a result, it can cut longer and go deeper into the cut.
It is a full tang knife with maximum robustness ensuring durability. 
Rust and corrosion-resistant cladding ensure that your knife stays clean and lasts longer.
Precise cryogenic tempering improves the crystalline structure of steel, increasing strength, flexibility, and hardness.
3. Damascus Japanese 8 Inch Chef Knife
Product Features
Brand: Hajegato
Blade Material: Alloy steel
Handle Material: Wood
Blade width: 4.7 cm
Weight: 6.3 Ounces
Dimensions: 13 x 1.80 x 0.08 inches
Description
Manufacturer: Hajegato is a family-owned culinary brand that stands for QUALITY, RELIABILITY, and UNIQUENESS. Hajegato knives are handcrafted by an experienced chef with meticulous attention to detail. 
Blade: This Hajegato chef knife has an ultra-sharp Damascus steel cutting core with a Rockwell hardness of 62+ for superior performance and flawless grain. Moreover, its premium Damascus steel layers provide great strength, longevity, and precise balance.
Hajegato 8 carbon stainless steel helps produce beautiful patterns on knives and keeps them sharp for a long time even after cutting thick meat or fish, vegetables, fruit, and more with precision Slicing. 
Handle: The Hajegato Japanese Chef Knives handle is composed of G10 wood, which reduces tiredness, finger numbness, and pains after continuous use. 
The G10 is well-known for comfort and durability, and it's commonly utilized in applications where the strength-to-size ratio is crucial.
Performance
This Damascus knife is elegantly crafted by a chef and is precisely balanced with a double beveled edge. You are getting a razor-sharp blade with optimum professional performance. The blade design ensures maximum knuckle clearance, allowing for a closer hold of the handle to the blade guard fingers and promoting a rocking motion cutting technique to protect your hands and make many hours of precise cuts.
4. Zelite Infinity Chef Knife 8 Inch
Product Features
Brand: Zelite Infinity
Blade Material: Japanese Damascus (AUS-10)
Handle Material: G10 handle
Color: Black
Blade Edge: Palin
Weight: 9.9 Ounces 
Dimensions: 12 x 0.94 x 1.77 inches
Description
Design: This full tang, double bevel Japanese chef knife was meticulously polished utilizing the traditional 3-step Honbazuke method.
The knife's blade has a nicely engraved Japan Tsunami Rose Damascus design on it. 
Blade: The blade features Japanese AUS-10 super steel with 67 layers of high carbon stainless steel.
The toughness of AUS-10 steel is mostly due to its extremely high carbon content of roughly 1.05. As a result, you can sharpen your knife effortlessly, and you will have a razor-sharp result.
Furthermore, the mix of vanadium, chromium, and molybdenum guarantees that the steel is resistant to corrosion as well as wear and tear. As a result, Zelite's AUS-10 knife will not rust, and you don't need to go through the trouble of frequent sharpening. 
Sharpness: You may find hundreds of individuals who were amazed at how sharp their knives came by searching "sharp" in Amazon customer reviews. 
Other low-end manufacturers cannot provide the same 12-degree blade edge that makes slicing meat, poultry, steak, and sushi/sashimi seem as easy as slicing butter.
Handle: Its military-grade G10 handle has incredible dimensional stability. When exposed to hot or low temperatures, it does not shrink or swell. The handle material has a temperature tolerance of up to 180 degrees celsius. Second, the G10 has a very high mechanical strength. It is hard to overcome. Third, it's lightweight, allowing for reduced carry weight on blades. 
Finally, during the manufacturing process, the G-10 is stacked in several ways to provide a wide range of appearances and hues.
So, whether you're chopping, slicing, dicing, or mincing, the rounded handle needs little effort. Regardless of your hand size, you can easily grip the ergonomically designed handles to reduce wrist stress even after continuous use.
Performance
This Zelite Infinity 8-inch Chef Knife is part of the Alpha Royal family of high-quality Japanese steel kitchen knives. The knife is ideal for slicing meat, fish, vegetables, fruit, and other foods. The razor-sharp blade makes chopping and slicing food easy and enjoyable, and it aids in achieving an adept chopping motion. Moreover, its liquid nitrogen tempered steel ensures long-lasting performance and produces an excellent cutting experience. 
5. Enso Chef's Knife – VG10 Hammered Damascus Stainless Steel Gyuto
Product Features
Brand: Enso
Blade Material: Hammered Damascus (37-layers VG10)
Handle Material: Wood (Black Canvas Micarta)
Color: Black
Blade Edge: Plain
Blade Length: 8-Inches
Weight: 8.3 Ounces
Description
Manufacturer: Since 1932, Enso has been creating professional Japanese chef's knives by blending the finest of sophisticated technology with the unrivaled knowledge and experience of traditional artisans.
Enso is still exploring new possibilities for kitchen knives in the modern-day, as well as working to improve production processes to offer the finest quality items.
Blade: The Enso blade features a hammered or sashimi finish, a 37-layer stainless steel Damascus blade, with a VG-10 steel cutting core for exceptional edge retention.
The VG10's 15.5 percent chromium content demonstrates its exceptional corrosion resistance capabilities.
Because of the VG 10 steel, it is both strong and easy to sharpen. 
The VG10 steel is robust stainless steel with a high degree of chromium. It also contains Molybdenum, which gives it a high toughness and strength.
Handle: The black canvas micarta handle of the Enso chef's knife features three stainless steel rivets, a bolster, and an end cap.
This seamless enclosed full tang handle design provides strength, longevity, and balance. Furthermore, Micarta provides durability with high performance for many years of continuous usage.
Sharpness: This Enso HD knife is heat-treated to 61 on the Rockwell scale and manually honed to a cutting angle of around 12°.
The blades have a double bevel (50/50) edge for right or left-handed use.
Performance
The Enso HD Chef's Knife is ideal for slicing, dicing, and chopping a wide variety of fruits and vegetables. The Chef's knife, with its curved belly, you can gently rock it through fresh herbs or spices to make a very fine mince.
6. Yoshihiro Damascus Gyuto Japanese Chefs Knife
Product Features
Brand: Yoshihiro Cutlery
Blade Material: Alloy steel, stainless steel
Handle Material: Wood
Color: Mahogany wood
Blade Edge: plain
Weight: 6.4 Ounces
Dimensions:  13 x 0.06 x 1.81 inches 
Description
Manufacturer: Yoshihiro Cutlery is a Japanese firm that specializes in handmade quality kitchen knives.
All Yoshihiro knives are crafted by Artisans with a centuries-long pedigree. The techniques used to make Yoshihiro knives go back to medieval Japanese swordsmiths who refined the art of manipulating fire, iron, and water. 
Blade: The blade is forged and hammered in the Damascus manner with 16 layers of steel including a VG-10 core.
Moreover, the blade's hardness or HRC rating exceeds most other stainless steel cutlery on the market. Because of its extraordinary hardness, the cutting edge becomes thinner and hence sharper, allowing the blade to cut through nearly any ingredient placed in front of it.
The strong VG-10 steel is coated with softer Damascus steel resulting in increased hardness and endurance of the blade. 
Additionally, the hammered roughness of the blade reduces friction and prevents food from clinging to it.
If you Like the Damascus Steel knives Here are other knives set Review.
Handle: Its fine handmade Mahogany handle stretches to the full tang of the knife and ergonomically welds to the hand for smooth use completing the package.
Design: An exquisite 16 layer hammered exterior steel is a decorative yet useful design that reduces friction while also keeping the food from sticking to the blade.
Furthermore, the VG-10 steel core and exterior Damascus steel structure are also stain resistant. It implies that they are resistant to the formation of rust when kept moist during usage. The user may use the knife for extended periods without the fear of rust development.
Also, Read What Difference Yoshihiro and Shun Knives Which is the best!
7. Professional Quality Japanese Damascus Gyuto 8 Inch Knife
Product Features
Brand: Regalia
Blade Material: Alloy Steel
Handle Material: G10 Black
Color: Black
Construction Type: Forged
Weight: 1.26 Pounds
Dimensions: 15.27 x 5.79 x 1.54 Inches
Description
Blade: The blade's cutting core features the Japanese AUS-10V "super-steel," which has a Rockwell hardness of 62+ on the Rockwell scale to ensure optimum edge retention without dulling or chipping.
Unlike wood and other materials, this handle is resistant to heat or cold and will never absorb water, which can cause deformation.
Genuine high carbon stainless Damascus steel is clad with 33 layers on each side for resistance to rusting and corrosion.
This blade is sturdy and sure to survive the test of time after being radical hardened with our unique cryogenic nitrogen chilling technique to strengthen the metal's molecular structure.
Handle: This military-grade G-10 black Garolite handle is ergonomically engineered for comfort and handleability. 
The handle is specifically geared to the demands of experienced chefs who spend long hours preparing cuisine.
Moreover, the handle is resistant to heat or cold. Also, it doesn't absorb water, which can cause deformation.
It will also not take up germs or bacteria.
The handle also allows optimal knuckle clearance. Moreover, its triple-riveted construction ensures unrivaled tensile strength.
Bolster: The knife's tapering bolster supports a natural pinch grasp for maximum comfort and ease of usage.
This bolster enables you simple access to sharpen the whole blade, all the way down to the blade heel, without obstruction.
In addition, this knife is precisely balanced at its most natural point of handling due to the design of the bolster.
Sharpness
The angles of this blade symbolize the pinnacle of design and the sum of millennia of chef knife manufacturing progress. 
This blade is wickedly sharp, having been finished to a mirror shine with an incredible 8-12 degree angle on each side utilizing the classic 3-step Honbazuke process. 
The tapering curvilinear blade is ideal for mincing, slicing, and chopping vegetables or meat.
8. Sunnecko Damascus Chef Knife Set
Product Features
Brand: Sunnecko
Blade Material: Japanese 73-layer Damascus steel VG10
Handle Material: G10
Blade Edge: Plain
Blade Length: 8-Inches
Edge Angle: 12-15 Degree
Weight: 2.19 Pounds
Dimensions: 8 x 1.56 x 1.5 inches
Description
Manufacturer: Sunnecko perfects its kitchen knives for all forms of use, ensuring that the blades change effortlessly between cutting rhythms, slide smoothly, and feel comfortable even after performing non-stop cutting movements such as chopping, rocking, and slicing.
Each Sunnecko kitchen knife is flexible and corrosion resistant after going through at least 50 production procedures. 
Blade: The blade's Japanese VG10 steel is well-known for its hardness and longevity, and it is a popular material in high-end kitchen knives. Moreover, the blade is forged with 73 layers of steel. 
In other words, the 36 high-carbon steel layers on each side of the knife combine several meta properties in a single piece. 
The Rockwell Hardness of 60±2 ensures durability and optimum performance.
Handle: Sunnecko's self-designed copper rivet G10 handle is made of high-quality Japanese G10. This professional knife's handle is extremely resistant to heat, cold, and moisture. On top of that, G10 is insulated, corrosion-resistant, and wear-resistant.
Sharpness: Sunnecko's skilled artisans meticulously sharpened and polished this kitchen knife to obtain a precise knife blade angle of 12-15 degrees. So that, by using this knife, you can easily cut or slice through any meats, vegetables, or other food materials.
Design: The Sunnecko chef knife is distinguished by its time-honored workmanship, which results in a durable and sharper blade than western knives. This chef knife is made of Japanese Damascus Steel and has a distinct beauty and elegance.
9. Kizzaki Premium 8 inch Japanese Chef Knife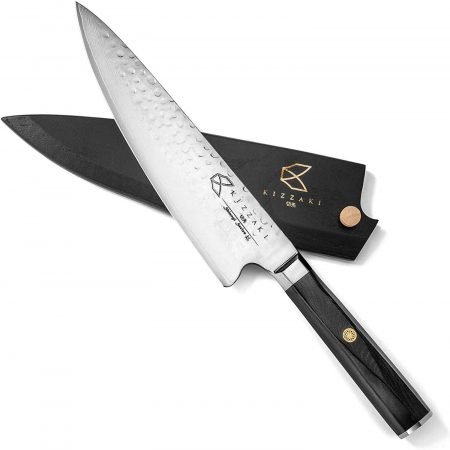 Product Features
Brand: Kizzaki
Blade Material: Hand-Hammered (AUS-10V)
Handle Material: Wood
Color: Black
Blade Edge: Hollow
Weight: 1.38 Pounds
Dimensions: 15 x 4.72 x 1.42 inches
Description
Craftsmanship: The Kizzaki Premium is the ideal combination of Japanese kitchen tradition and modern home cooking. A Fantastic Addition for Professional Chefs and Kitchen Enthusiasts.
Furthermore, its stunning Damascus "Tsunami Rose" Pattern and hammered finish add premium sensation to your cutting experience. 
Blade: The blade is made of Japanese super steel AUS-10 (Steel Only Produced in Japan), which is recognized in professional kitchens throughout the world for its superior hardness (Rockwell 62) and flexibility.
The Honbazuke method is used to hand hone the Kizzaki Chef Knife.
The blade is super-sharp, and it is non-stick. On top of that, it has been treated with liquid nitrogen for increased durability and resistance.
Handle: The knife comes with a military-grade G10 handle with an ergonomic diamond grip. As a result, you can be confident that it will fit comfortably in your hand when chopping.
On top of that, It's a double-beveled knife with an octagonal handle that allows it to be used ambidextrously.
The handle also features Shinogi Series Elegant Mosaic Rivet and Forged Kizzaki Logo on Back.
Furthermore, its decreased fatigue assures the knife's perfect balance.
Gift Box: The Kizzaki Premium comes in a Gift Box that includes the Shinogi Series 8-inch Chef Knife, Acacia Wooden scabbard, steel soap, and a Microfiber cloth for cleaning and shining your Knife after Washing.
So, it could be an outstanding present choice for Weddings, Birthdays, Enthusiasts, Christmas, and other occasions.
10. KATSU Kiritsuke Chef Knife (Damascus Japanese Kitchen Knife)
Product Features
Brand: KATSU
Blade Material: Alloy Steel
Hand Material: Wood
Color: Ebony Wood
Blade Length: 8-Inch
Weight: 6.63 ounces
Dimensions: 16.1 x 3.7 x 1.4 inches
Description
Manufacturer: Kiritsuke knives are genuine multifunctional knives in Japanese cutlery; they are one of the most adaptable and necessary blades a cook can own.
Blade: The knife features a professional 67-layer Damascus steel blade with a traditional Japanese convex grind (Hamaguri-ba) that excels in sharpness, durability, and sharpening ease. 
Handle: Its handcrafted octagonal ebony wood handle with buffalo horn bolster is lightweight and ergonomically welds to the hand for a comfortable grip.
In other words, with this knife, you are getting a comfortable cutting experience. 
Sheath: The KATSU kitchen chef knife comes with a magnetic Saya sheath fashioned with dark walnut wood. This is useful for conducting field tasks.
Gift Box: An elegant KATSU gift box with distinctive designs is the ideal present idea for Christmas, Weddings, Birthdays, Father's Day, Mother's Day, and other special occasions.
JAPANESE CHEF KNIVES – FAQ
How to Sharpen Japanese Chef Knives?
To begin, soak or spray the whetstone with water. Soak rough and medium stones in water for 10-15 minutes. Sharpening fine stones should only be done with a dash of water.
To support the stone while sharpening, place it on a moist towel or a base.
With your index finger, grasp the knife on the spine, thumb on the flat of the blade, and three remaining fingers on the handle.
Begin with the knife tip by pressing the edge of the blade on the stone with two or three fingers on your left hand.
Maintain a stronghold on the knife while keeping your shoulders square to the stone and your upper body relaxed. 
Press the edge of the blade on the stone and push forward, exerting pressure as you progress ahead and releasing pressure as you return the blade to its initial position.
Finally, repeat the procedure, pressing the edge hard against the stone and sharpening a little piece of the edge at a time, until you feel a slight, along the entire edge.
Why Are Japanese Knives so Expensive?
Japanese chef knives are lighter and sharper than common European chef's knives, allowing for more accurate cuts.
Quality materials, hammering, and grinding are all part of the production process.
The hammered finish, known as tsuchime, enabled cooks to slice food more rapidly and effectively. It also imparted a lovely look to each blade, which is highly regarded in Japanese knives.
To sharpen the blade, an adept artisan rubs it against a rough grindstone formed of natural rock, a sharpening material found only in Japan. This phase identifies an artisan's competence and eventually determines the final worth of the knife.
In reality, sharpening the blade takes a whole day, followed by securing and polishing the handle. Each knife is unique, having its own balance, thickness, and design.
We Are Reviewing the Top 10 best Chef Knife Under $100
Are Japanese Knives Worth It?
The answer is YES! Generally, Japanese knives are lighter, feel more balanced in the hand, and have steel that is tougher, thinner, and can maintain an edge for a longer period of time. 
It is why they're so popular among professional cooks and why they're ideal for the precision tasks chefs perform all day, every day.
That's why Japanese knives are worth the money.
What Are the Types of Japanese Chef Knives?
Japanese kitchen knives evolved from plain, hefty blades into a variety of well-thought-out shapes utilized for precise operations.
There are several types of Japanese knives. However, the most well-known are –
Santoku

(Multipurpose knife) 

Yanagi (

Sushi knife

)

Gyuto (Chef's knife) 

Bunka (Multipurpose knife) 

Kiritsuke 

Nakiri (Vegetable knife)

Usuba (Vegetable knife) 

Deba, and 

Yanagiba 
Each of these knives has a distinct purpose.
Final Verdict
Japanese chef knives are premium tools for any kitchen application. However, these knives are not inexpensive. 
So, to get the best Japanese Chef knife under the $200 price range, we will recommend The Shun Premier Chef Knife and The DALSTRONG Chef Knife Shogun Series.
These knives are the best value for money products that you will find in the market. However, if you are totally on a limited budget and still need a quality Japanese chef knife, we highly recommend The Sunnecko Damascus Chef Knife Set. In fact, this knife has all the features that a traditional Japanese knife has.
However, if Japanese knives are not your thing, then check out Wusthof and Gourmet knives. They could be your alternative option for finding out the best deal in the market.